One day I will make each and every one of these....in my dreams...hehe :) There are 14 free patterns so keep on scrolling. :)
Stephanie from All About Ami is an amazing amigurumi pattern maker. There is not one of her creations that isn't adorably kawaii and professional looking. She has an awesome
blog
too. You should definitely check it out, my dragons are from her pattern. This adorable panda is part of a 3 bear ornament series with a cute bear and koala. You can find the
free pattern here
.
This
Chubby Panda pattern
is from Justine from
Crafty Hanako
.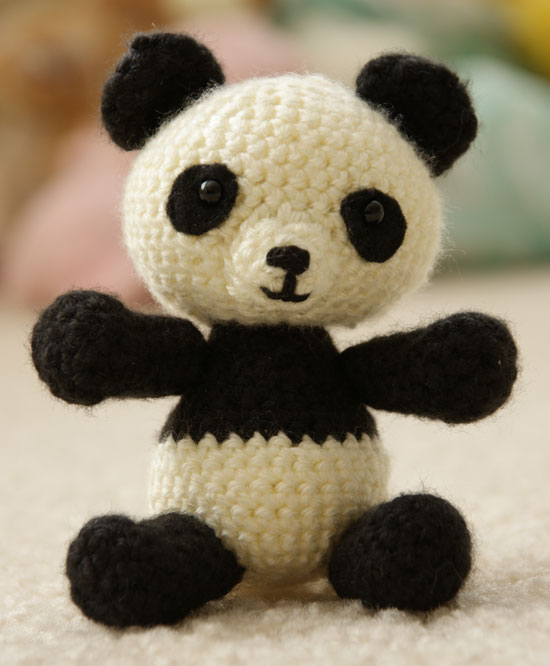 This
Panda pattern
is from
Angie's Art Studio
.
This Fuzzy Panda is from a crochet-along sponsored by Lion Brand Yarn. This
free pattern
is made by Tamie Snow of
Roxycraft
. She is an amazing artist too and has a lot of very cute pattern, for free and for sale.
The
free pattern
for these small Lazy Pandas are on
Crochetville
.
Felted Penny the Panda
free pattern
from Lion Brand Yarn. You will have to register but it is still free.
LOL...these pandas crack me up. The proper Mr. and Mrs. Panda's creator wrote a whole story about them including their son, Glenny on her blog,
Warm Fuzzies
. Their story and the free pattern can be found
here
. While you are at the site, you should check out Sammy the Hedgehog. :)
This fuzzy Panda is brought to you by Michaels and Lion Brand Yarn. The free pattern is
here
. I've always had a bit of a hard time with Fun Fur but this is a good small piece to try working with this novelty yarn. :)
Pablo Panda is also from Micheal's and Lion Brand. His pattern is
here
.
You want a giant Giant Panda? Better Homes and Gardens provides us with this 18in panda's
free pattern
to make and cuddle with.
This Baby Panda Girl
free pattern
is made by Jane of
Jenny and Teddy.
She has lots of cute patterns, a few free on her blog and some for sell on her etsy store. The cute dress is actually separate so you can change her! Adorable!
This is Amanda, sadly not named after me. She has a sister named Annie, a teddy bear not pictured. Their free patterns can be found
here
. They are also from Jane. Thanks Jane! :)
This panda comes with a bag full of bamboo. You get all the free patterns
here
from Alisha of
Fuzzy Feet Works
.
The free pattern for Peyton, the Panda Girl can be found on ravelry
here
. She is made by Shannen from
Sweet N' Cute Creations
.
There you go! 14 Pandas for you to choose from to make! :) Have fun!