These scarfs are so easy and fast that I was able to finish one in about 3-4 hours. I also was able to finish two, yes I said 2!, scarfs. My friends and family are well aware that I have multiple unfinished projects but this year, I have been trying to change that. :)
Cream and Pink Curlicue Scarf
This is the first scarf made with the pattern (link can be found in previous post). I like the pink edging. I tried to put eyelash yarn as an edging but it did not look as nice. I am debating on whether or not to add a row of single crochet to the middle. It is a very soft scarf. And I love that it was made from bamboo yarn but it is pretty heavy when you are holding it. When you are wearing it, you don't feel the weight.
I found this yarn while at Michael's getting the last ball needed to finish the above scarf. It has 6 different types of fiber, color Jade. I thought it was very cool and neat. I saw that it did have some sparkly fibers in it too. Cons: $10 per skein, they joined the fibers in a way that shows up because it is too stiff, and the sparkly fiber is way too short. Sadly I had to use two skeins which makes the scarf a little more pricey than I wanted, but it allowed me to add the extra row of single crochet to the middle.
Finished Green Curlicue scarf
You can see the 3 sections where the sparkly fiber is. I don't know if it like it or not. It just seems too random. The other fibers are of the same color so it blends in well. And even though this scarf is longer than the first, it is surprisingly lighter.
Close up of the scarf center and sparkly fiber. I like the added row of single crochet to the chain row/center. I think it softens the line but it does prevent the scarf to be really curly.
Close up of one of the ends
To start the single crochet row in the middle, I just continued the single crochet from the edging around. To make the edge rounded, I single crochet 2-3 times in each stitch so that it would curve.
When you wear these scarfs around your neck, it looks like you have those Elizabethan ruffle collars. hehe Of course not so extreme but it is cute.
I have realized that I like crochet because there is no binding off but I like knitting because it seems faster and the stitches are more seamless. I want to find more One Skein Scarfs because purse strings are tight. You guys might see some more in future posts so stay tuned. :)

------------------------------------------
And I have found another curlicue scarf
pattern
that is cute.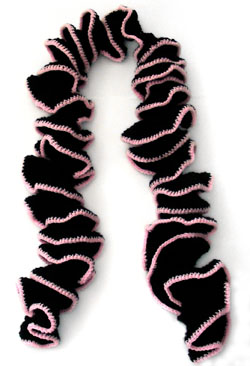 Ruffle Scarf
Because of the extra rows and the use of the triple stitch, it would be thicker and the ruffles would be bigger.